Who doesn't like to have strong and thick hair that can be styled however they want? Believe it or not a full head of thick and perfectly styled hair can boost anyone's confidence. But these days due to high pollution in the environment, a diet full of junk food, lack of hair care routine or due to other hereditary reasons, the problem of hair loss starts at very early age especially in men.
If there is a problem, there ought to be a solution. Right? Well, yes of course there is. No, it's not a costly hair transplant which will give you only half an inch of hair after spending lacs and waiting for years. The easiest and fastest solution is a Hair Patch, or some say Hair Wigs / Hair Systems or Hair Toupees for Men.
Now, we know the solution is Hair Patch but there are plenty of options and which one is the right one for you? Let's find the best one for you!
SKIN BASE MEN HAIR PATCHES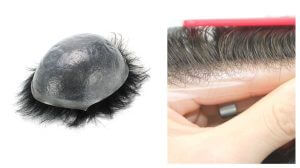 A thin skin hair system is essentially a thin piece of transparent plastic (think similar to plastic wrap but thicker). It is made of polyurethane, also known as poly or PU. The main feature of this material is that it merges with skin completely and provide the most realistic look on the other hand these hair systems tend to be a little costlier but if you are looking for natural and real look and do not want to compromise with your comfort this is the best option for you.
Basically, Poly or Pu units are considered to have low life span, but we have also covered you here by providing combination of Pu and Net material so that your system will last for longer period, and you can get the benefits of the highly acclaimed PU Hair Patches in India. These systems are light in weight and contain 100% European Remy Human Hair which means that hair comes from one donor or sources, and which are silky and can be styled any preferable hair style.
Some of the most popular Skin Base Hair Patches in India are as follows:
LACE MEN HAIR PATCHES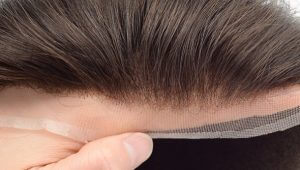 A men's lace hair wig is made up of very fine quality of thin net which is basically used to avoid sweat accumulation. A lace hair patch is one of the most breathable hair patches perfect for extreme humid conditions. Another important feature of these hair systems is that they provide a very fine Natural Frontline just like Pu hair systems. Unlike Pu hair systems Lace Hair Patches generally have lower life span of around 6 months or more. Moreover, the life span of lace hair patches also depends upon the servicing of the hair patch as these hair patches are very delicate and should be handled with care.
In India we like to have the value for our money that we are spending on our products. That's why we have something which is suitable for our people needs which Lace Front Hair Patches which has all the benefits of having lace and durability of a Mono base. So, if you are looking for Natural Frontline plus a product that can be used for a while here are some options for you:
MONOFILAMENT MEN HAIR PATCHES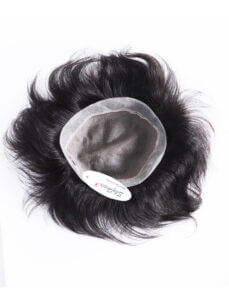 Monofilament hair wigs also known as mono hair wigs are the most commonly used hair wigs in India because they are economical and durable in nature. These human hair wigs bases are made of fibrous cloth like material to ensure that it can be used for longer period of times. The material is not comfortable like PU material, which is soft for your skin, but it gets the job done. Monofilament hair wigs can easily last for a year without much hassle.
If monofilament hair wigs are economical and lasts for a year, then it must be the great deal. Right? May be or maybe not. Monofilament hair wigs have thick border which is not comfortable for everyone as you are going to wear for the whole day. The quality of the hair used is also something to consider. Although we use 100% human hair in these wigs, the hair donors of these wigs are multiple that means they are not Remy Hair Wigs. Some of our Best Mono Hair Wigs are:
Now that you have learnt about all of the hair systems, you may still be thinking… "but still, what hair system is best for my lifestyle?"
To answer this question, we need to look at: how sweaty your scalp gets; your preference for how natural you look over how long your hairpiece will last; and how much you are willing to spend on a hair system.
Let's break down some important factors:
#1 Scalp Sweating

Your natural scalp oiliness
How much exercise or sport you do
What climate you live in
If you're forehead often sweats, your scalp likely easily sweats. If you do a lot of sport, your scalp likely sweats. Therefore, you should consider a Pu hair system or lace hair patch.
#2 How much you value realistic look
There is a reason that the Mirage is one of our most popular hair patches. It is the least fuss, most natural of our hair patches, comfortable and durable for longer period of use.
#3 How much you are willing to spend for a hair patch?
If you are tight on budget, you can always go for one of our monofilament hair wigs that will help you to gain back your confidence and mark your identity.